MERCER COUNTY SOCCER HALL OF FAME TO WELCOME 9 NEW MEMBERS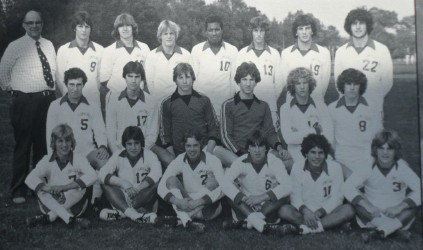 The Mercer County Soccer Hall of Fame dinner, an event that honors the 100-year history of Mercer County soccer, was held on April 6, 2013 at the Hibernian Club in Hamilton.

The inductees include Chris Colavita, the captain of the Lawrence High School 1980 State Championship Team [pictured at left - Chris is the second from the right in the top row (#19). Other inductees are Ron Celestin, Joe Russo, Mike Stricklin, Misty Cregar, Bruce Brodowski, Sandy Koschek, Tom Bayless, and the 1976 Trenton Extension Team.

Enlarge this photo with players names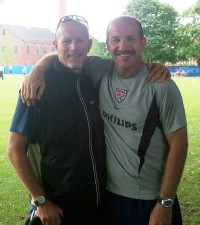 <!!--ENTER TEXT BELOW--!!>
Photo above: 2012 Mercer County Soccer Hall of Fame inductee Mike Stricklin and the late Glenn "Mooch" Myernick. <!!--STOP. NO TEXT BELOW THIS LINE--!!>